One-on-One: Go Organic With Leslie Gomez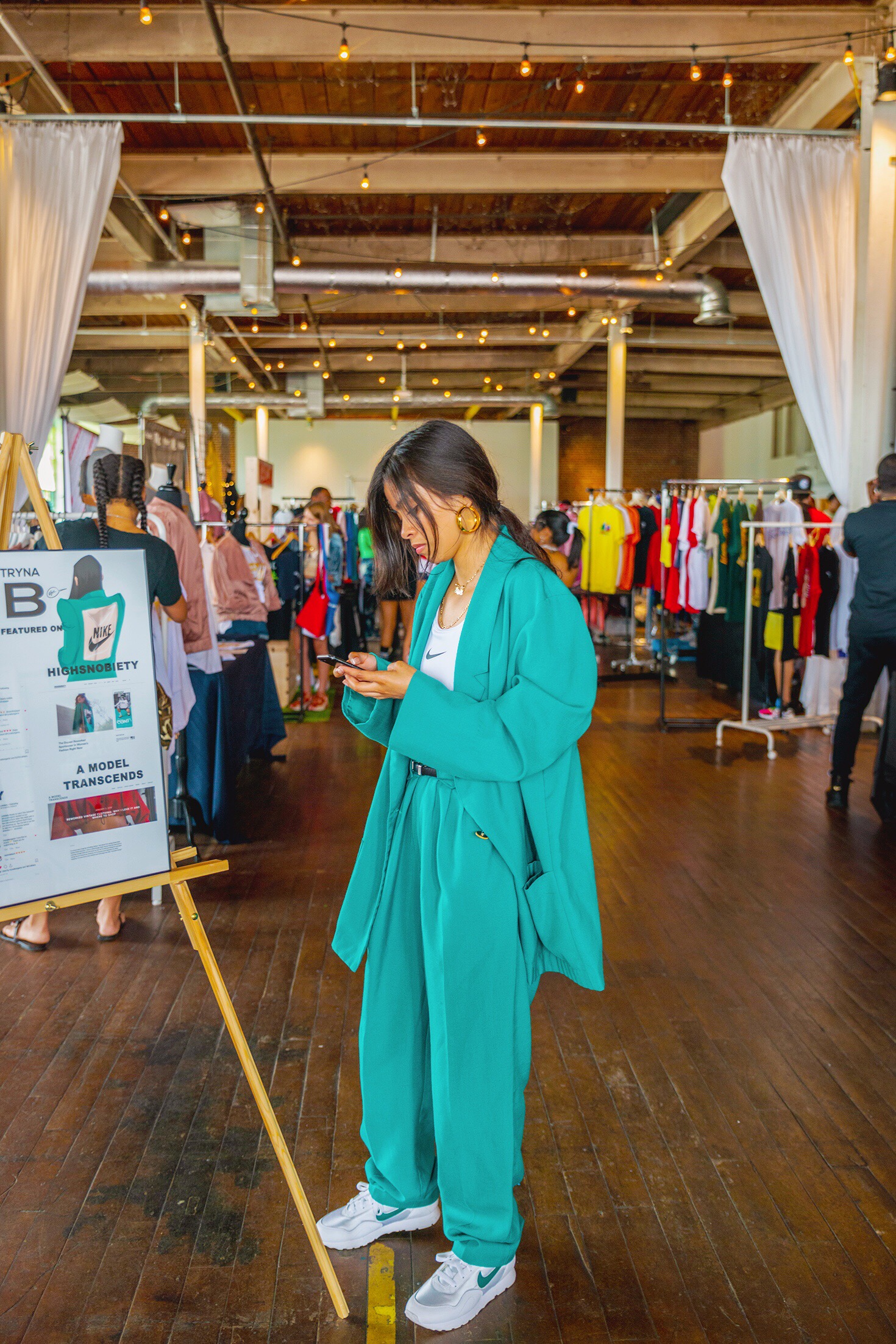 We met up with Leslie Gomez, founder of TrynaB, an online boutique specializing in reconstructed thrifted items and handmade accessories.
MEET LESLIE GOMEZ. DESIGNER. SNEAKHER LOVER. STUDENT. CREATOR. CUT AND SEW QUEEN.
Images by: Caroline Japal
Words and Interview: Kassie McRostie
At CNK Daily, we utilize our platform to empower, educate, and elevate women in the SneakHER community. Two weeks ago we got the opportunity to attend the Atlanta Streetwear Market to experience up-and-coming streetwear designers. When we found out one of our favorite sneakHER style streetwear brands was going to be there, we had to ask her a few questions.
The energy was nothing like we've seen before at the market and Tryna B Organic Founder and Designer, Leslie Gomez, was bringing the ultimate vibes to the room. Not only were all the ladies like bees to honey towards her eye-catching booth, but men were flocking as well to see what the reconstructed streetwear hype was all about. She left the market without a piece left to sell and we left with a story.
Get to know more about Leslie, her brand, and the reason why staying organic is at the top of her priority list.
CNK: Where did the inspiration to create your own products come from?
TBO: "My inspiration comes from the lack of women's wear and streetwear, and it also came from me thrifting since I was little. My grandparents used to work at the thrift, so every time i would go with them I would just get a bunch of over-sized tees and stuff. Till about over a year ago, I was wearing over-sized tees and was just very tomboyish. Then, I was like, "You know what I can just alter this and make it women's wear, make it my own". I didn't realize the power I had to manifest all of this and make other girls realize. "Hey, you can actually turn anything into something.'"
CNK: Who are some designers that inspire you?
"I really love Jessica Lomax, she's the global designer of Nike and she's been the person behind all of the techwear for Nike. She's based out of New York and she went there because she felt as if she needed to be closer to her female consumers in the biggest city to see how they work around the city everyday and what they should be wearing. I feel as if she was very smart doing that because she's not from the states and she sacrificed a lot for the brand. "
CNK: With your products you have created a new wave of Streetwear through reconstruction, how would you say your pieces stand out in the current climate of customizing and re-purposing?
"I think my pieces stand out because I'm able to step out and show people different things with every drop. I'm not just doing your typical hoodies. I can go from hoodies to blazers, to socks, to bags and you never know what to expect. It's always something different. I don't like to put myself in a box."
CNK: Does your design process focus on functionality or aesthetic or both? Can you tell us about the process you take to achieve that?
"I try my best to focus on both by using buckles and straps. I feel like that makes it a lot more adjustable for everyone or even when I do my drawstrings and waistbands, it gives it a stretchy feel. I can do it on a 2XL top and anyone can wear it. So I feel like it is a little bit of both."
CNK: Passion is for you and what you do, the purpose is for the community you serve, what is your purpose or message with Tryna B Organic as a brand?
"My username on Instagram has been Tryna B Organic from the beginning and that's where the brand name came from. Tryna B Organic was more so a username for myself as in "I'm trying to be my organic self". For the longest time I actually went without a brand name, but then one day I said to myself , "Why not Tryna B?" and that could be a spin-off for anything I do, even if I were to do a collaboration. I recently did a collaboration with my friend Spiff, who is a famous artist up North, and even then our collaboration was Tryna B "Spiff". It could go with any collaboration such as Tryna B "a certain artist" or Tryna B "Sneakers", in the end you can literally do anything with it. "

CNK: What advice would you give to women who want to follow your career path as a designer?
"I would tell them, don't let anyone hold you back. I know today on social media, there can be a lot of negative people or people that think you are just another typical person. Stay true to yourself and know that for every 10 people that hate you, there are going to be a 100 that love you. Don't let the negative people get to you, stay positive."
CNK: Brands have put a focus on creatives and innovating their work how do you think this has played a role in your creative process?
"I feel as if I try my best not to spend my time on social media, but when I am on there I make sure the brands that I follow are doing something different. I don't necessarily care about numbers/followers, but I try to look for people that are passionate and have a reason behind what they do. You can tell who is genuine or not, and who is just putting out random stuff. It's important to be able to tell what brands have a purpose."
CNK: As a woman, what do you gravitate towards when looking for streetwear and sneakers?
"I like to be comfy, which is why I wear a lot of my stuff over-sized. A lot of the stuff that I actually sell to girls is usually a little bit tighter and fitted because that is what they want, but I prefer the large's that I make. They can have the tight fitted stuff, but I'll keep the larger comfy stuff. Haha!"

CNK: What's in your current sneaker rotation?
Right now I have the:
1. Air Max 95 "Plant Color Collection"
Shop The Sneaks

CNK: The SneakHER culture has been a place that has really embraced your work, what does SneakHER culture mean to you?
"It's everything in this generation. With sneakers, you can do anything. You can create, you can resell, and you can make your money. They aren't just to buy. I've seen people make bags, tops, investments, and even make their own sneakers from sneakers. Being a woman in this space means that I have to stay up on my game. I've been watching a lot of interviews of girls who are heavy in the sneaker game and a lot of them say since it's been male dominated, just know your facts. Research and study and don't just put on a pair of Jordans just because they are there. Be informed. Just like any industry, you have to study."
To see what Tryna B Organic is releasing next, follow her on Instagram (@trynaborganic) and turn those notifications on. Her stuff goes quick!