The adidas NMD R1 Primeknit "Vapour Grey" Is An Instant Cop
I don't know about you but, for me, instant cops are very few and far between. Seeing as I'm an adult and I will get kicked out of my apartment if I can't pay rent, I have to be a bit selective about how I spend my money when it comes to my sneaker purchases. You all know my theory about the "yes, yes, NO", right?
Well, the NMD is slowly but surely gaining that elusive must cop unicorn status the more I see it flowing into my inbox. Even though the newly released NMD model is proving to be one of the most popular sneakers that the company has released since it hit the streets last year, I've yet to cop a pair simply because I wanted to wait for an NMD that was so visually pleasing it made my eyes pop out of my sockets a little bit. I think we may have found a winner.
Just a few days after showing off a vintage white colorway that was pretty as the driven snow, adidas returns with the "Vapour Grey" colorway for the NMD R1 model. Va-va-VOOM.
Earthy tones (which I love, btw) play a significant role in the sneaker's aesthetic appeal. The nude brown runs the entirety of the sneaker's upper, while spots of the same color are seen on the sole and heel tabs. adidas' Primeknit is featured on the inner sock and throughout the upper as well, while the white Boost mid-sole sits a top the Vapour Grey end-sole in all it's Colgate glory. See more views below: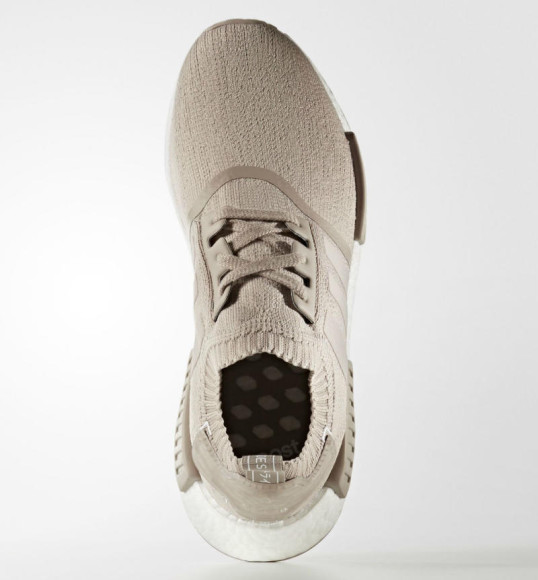 Unfortunately, adidas is teasing us a bit as they've yet to publicly issue a release date for the adidas NMD R1 "Vapour Grey", but be sure to check back with us for more info.
In the meantime, I'm pretty sure it's obvious that this adidias offering is a COP for us (duh), but what about you?
Will you be adding this NMD Primeknit to your collection?
You May Also Like...